KEEP YOUR HAND AND FEET INSIDE
November 27, 2018

EVERY STRUCTURE IS A CHALLENGE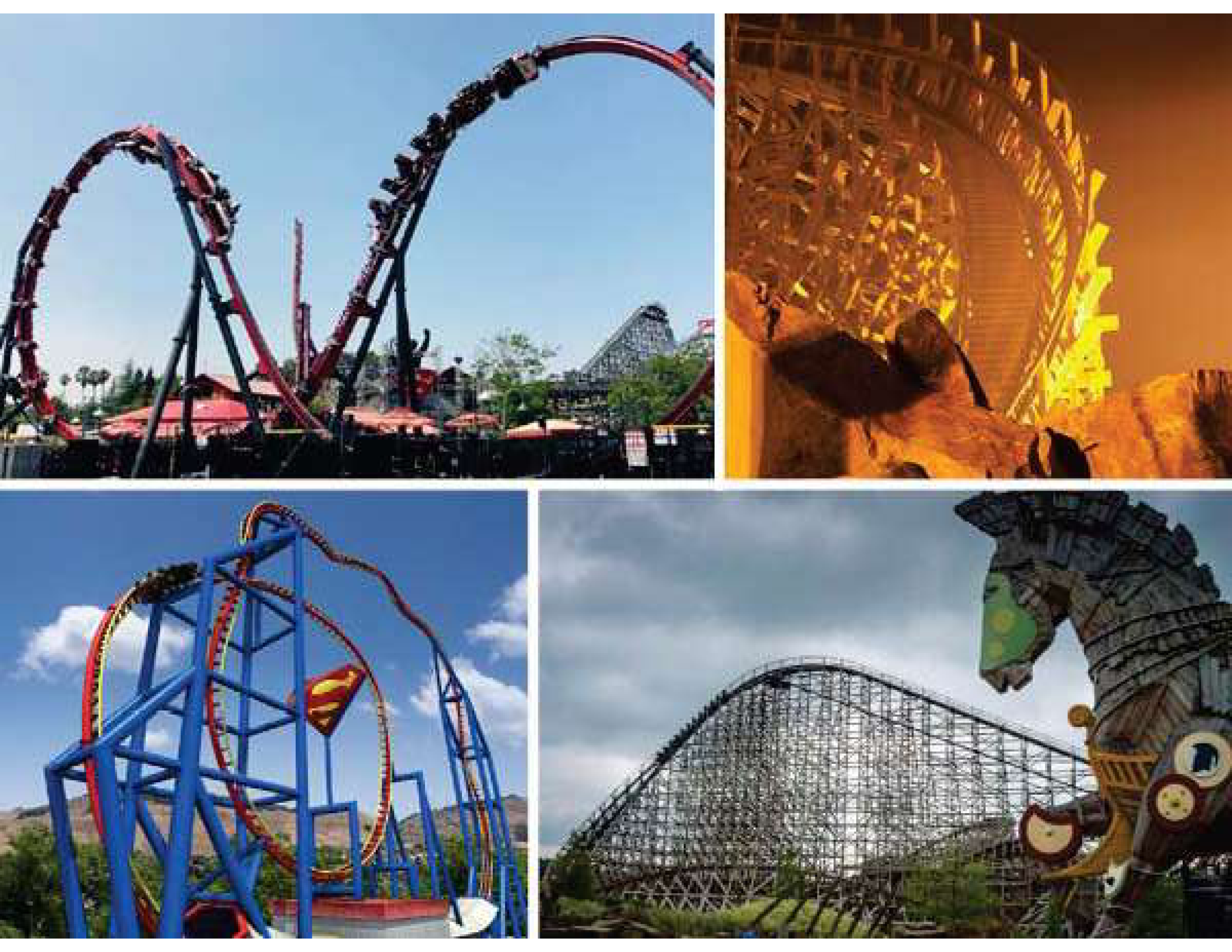 Top left: Harley Quinn Crazy Coaster at Six Flags Discovery Kingdom, Bottom left : Superman Ultimate Flight at Six Flags Discovery Kingdom, Top and bottom right : Troy at Toverland, the Netherlands.
You step into the seat of your favorite roller coaster, pull down your lap bar and the ride assistant comes by to make sure it is securely fastened. The coaster slowly clicks its way up the track to its highest point and suddenly lurches forward, hanging momentarily in midair, then begins its descent. Your stomach drops. As the ride reaches top speed of 150 mph, your entire body presses back against the seat, your hair is flying, and your adrenaline is pumping as you join in the ear-piercing screams of all the thrill seekers around you.

Chances are at this moment you aren't thinking about the structural engineering that ensures the ride is capable of taking the loads of the cars and its passengers - time and time again - bringing them safely and securely back to the starting point.

You might not have thought about it, but the engineers at PLM have. Roller coaster and thrill ride engineering is a specialty. Understanding how all the pieces fit together, calculating the loads, and applying inertia forces takes experience. PLM has that experience.

Harley Quinn Crazy Coaster and Superman Ultimate Flight at Six Flags Discovery Kingdom? The PLM team engineered those. Troy at Toverland in the Netherlands? Yep. In fact, the PLM team is responsible for nearly fifty coasters and rides throughout the United States and Europe.

Behind the firm's thrill rides are a team of professionals who have built a reputation for being innovative, effective and precise.

"It's an exciting project type," says Senior Associate Danil Botoshansky. "Over time, we created specialized software to help us design. It took a long time to develop these special tools, but we did it so we can design the next one quickly and effectively."


SBE - LBE - MBE Certified

MEET HARDIP PANNU
October 18, 2018

OVER FOUR DECADES OF SOLID STRUCTURES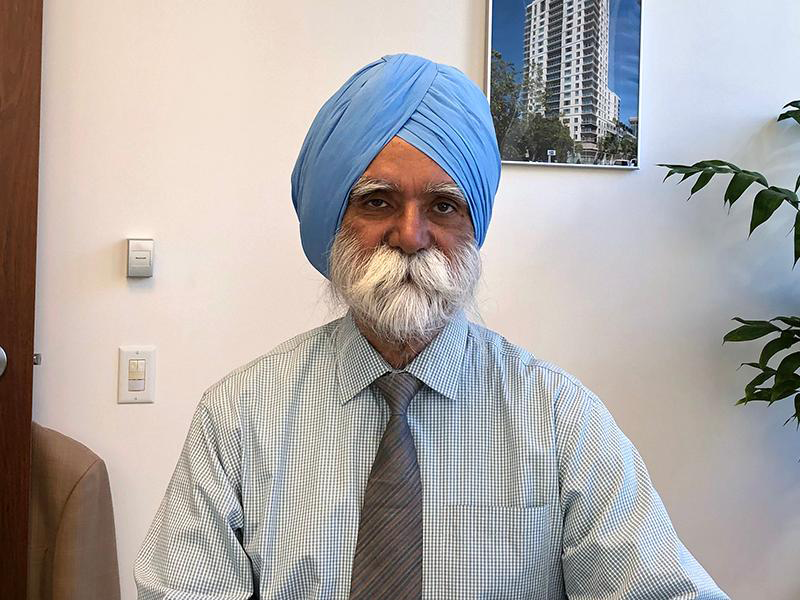 An Early Start
Hardip Pannu knew at an early age he was bound for a career in engineering. His course was guided by an amalgamation of interests: a love of math, an understanding of all things technical, and an architect uncle. He completed his Bachelor's degree in Civil Engineering as the top Engineering student in the state of Punjab, India. He applied and was accepted to the University of Wisconsin at Madison, where he earned his Master's degree in Civil Engineering.

The Phoenix Years
Hardip's award-winning structural design career began in Phoenix, where he spent ten exciting years and received a technical excellence design award for One Columbus Plaza. Greater Phoenix is dotted with structures that he designed, including Sky Harbor Airport's Terminal 4.

On to San Francisco
When he joined Martin, Middlebrook & Associates in San Francisco, in 1989, Ron Middlebrook would introduce him as the firm's trouble-shooter; he created proprietary computer-based analysis methods that became standard practice. When the firm changed ownership and became Middlebrook + Louie (M+L), he was made a Principal. In 2010 the company dissolved, and he formed PLM with two of his M+L partners.

Solid Structures
Hardip has led the structural design of many major projects, such as the International Boarding Area "G" at SFO, the W Hotel in San Francisco, Highland Alameda County Hospital's Koret Emergency Outpatient Center in Oakland, and the CalSTRS Headquarters in West Sacramento. Hardip's thorough understanding of engineering and intuitive thinking allows him to create simple and easy to build yet innovative solutions to complex structural problems.

Just for Fun
Outside the office, Hardip has a pilot's license and enjoys assembling electronic circuits, model airplanes, model helicopters and drones.

SBE - LBE - MBE Certified

DO YOU KNOW PLM?
September 25, 2018

BIG PASSION | BIG PROJECTS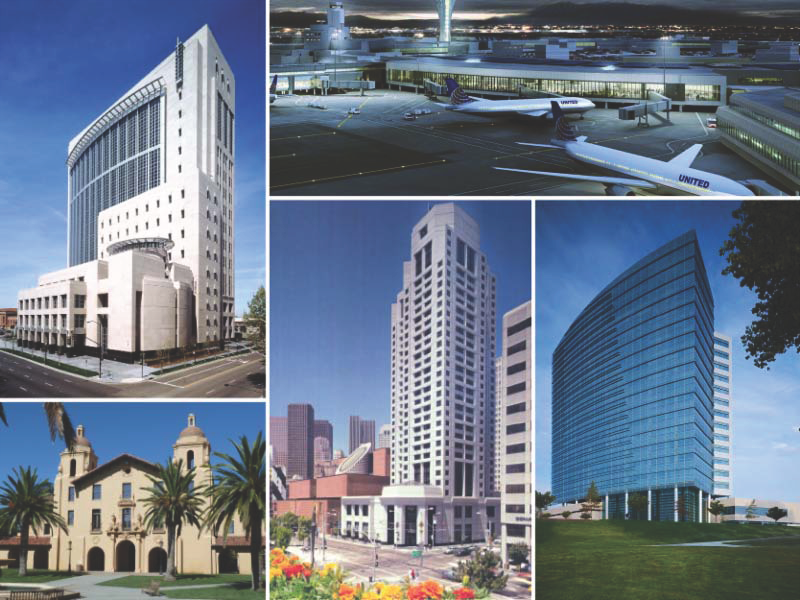 With more than 43 years of experience in structural engineering, we're certain you're familiar with some of the office, mixed-use, recreation, and hospitality projects that have remained our specialty from day one. From San Francisco's Moscone Convention Center and W Hotel to the seismic rehabilitation of Stanford's Old Student Union to Sacramento's U.S. Courthouse and Federal Building, we've had a hand in crafting and re-crafting some iconic structures.

It all started back in 2010 when three Principals from the dissolved Middlebrook + Louie joined together to form PLM. These Principals - Hardip Pannu, Jeppe Larsen, and Bob McCartney - were the structural engineers of choice for many of northern California's top architects, developers, and design/build contractors.

Eight years later, PLM remains a structural engineering firm that maintains a reputation for skill and precision on projects both large and small. We deliver personalized service on every undertaking, from concept through completion. Our dedicated and experienced staff is committed to using creative approaches to arrive at intelligent, innovative and cost-effective solutions.

SBE - LBE - MBE Certified

WAVE MACHINE
PLM provided the Structural Design of the Track Supports, Foundation and support structures for this amazing Wave Machine in Lemoore, California. In addition to the Structural Design of all types of buildings, the design of entertainment rides is another area of our structural design expertise.
August 27, 2018
SKY WARP
In addition to the Structural Design of all types of buildings, the design of structural components of the entertainment rides is another area of our structural design expertise.
Ride Creators: Skyline Attractions
July 25, 2018